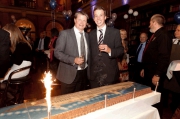 SEA Europe Chairman, Lars Gørvell-Dahll (Left) and SEA Europe Secretary General, Douwe Cunningham (Right)
The European association for shipbuilding and marine equipment, SEA Europe, has appointed Mr Douwe Cunningham as the Secretary General at the occasion of their official launch party. Mr Cunningham the former Deputy Secretary succeeds with immediate effect Dr Reinhard Lüken who had announced his departure in May taking up the position as Managing Director of VSM, the German shipbuilding and ocean industries association.
Mr Cunningham in his inaugural speech said of the association "2012 has given the maritime technology industry a united voice. A strong voice able to give clear messages and to tell engaging stories to the benefit of the sector convincing others of its strategic importance". He went on to say that "the associations united voice is its main tool and strength which cannot not be taken for granted".
Of the industry Mr Cunningham stressed that "given the right conditions and regulatory certainty, business within Europe can be fostered to such a degree that the maritime sector can remain truly competitive on the global market enshrining its high-tech credentials for the future".
The occasion was also a celebration of the anniversaries of CESA (75th) and EMEC (21st) the members of the two associations came together in June 2012 to create SEA Europe.