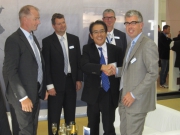 Imtech Marine signs a OEM agreement for the new RHRS 2014 River Radar with Furuno, from left; Hugo Abrahamse (Supply Chain Manager, Imtech Marine), Hans van der Groen (Sr. Account Manager Procurement, Imtech Marine Netherlands), Muneyuki Koike (Managing Director and Divisional General Manager of Marine Electronic Product Division, Furuno Electric), Erik van Boom (Area Sales Manager, Imtech Marine Netherlands) and Eric van den Adel (Managing Director, Imtech Marine)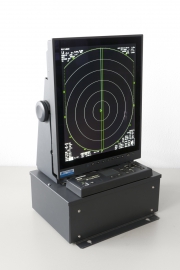 Furuno and Imtech Marine have jointly developed an innovative product for inland waterway shipping. The RHRS 2014 river radar is a revolutionary colour radar, unique in the inland shipping market is the mouse control, which makes this radar very user-friendly. It also offers maximum safety thanks to a black box with two SD cards for 24 hours of storage of radar images. The RHRS 2014 replaces the RHRS 2005, which is now being used on more than 4,000 inland waterway ships. The RHRS 2014 is approved by the Wasser- und Schifffahrtsverwaltung des Bundes for inland waterway shipping in Europe. Imtech Marine presents the new radar at METS (13-15 November in Amsterdam), standno. 02.523.
Eric van den Adel, Managing Director Imtech Marine: 'It is important to innovate constantly and to help our customers achieve a more efficient and safer journey. That requires technological products of the highest quality. The cooperation with our strategic partner Furuno strengthens our ambitions. Furuno is highly regarded in the market for high quality and reliable navigation and communication equipment.
Muneyuki Koike, General Manager Furuno Marine Electronic Products Division: '"Recent market study shows that there have been increasingly growing market needs for fully compliant radar, oriented specifically for river use. Presumably, this market need stems from the recent trend shift witnessed in logistics specifically in Europe, where more and more emphasis has been placed upon river transportation. In order to satisfy such market needs, we have manufactured a fully compliant radar for river application. It is our natural decision to work together with Imtech Marine, for we fully recognise their powerful distribution channels and competent marketing force."
The RHRS 2014 fully meets the demands from the market. Thanks to the compact LED-TFT screen the radar is easy to install and it has touchpad control. Other advantages are the 'docking modus' for mooring with two GPS-sensors, display of maximum 300 AIS targets (Automatic Identification System) and a colour screen that displays a clear picture during both day and night. Inter switching is also possible for four antenna-/processor configurations via Ethernet connection. In short, the RHRS 2014 is equipped with the latest technology. The RHRS 2005, with its proven quality, will stay in the market until the end of next year.
First orders
During the SMM trade fair in Hamburg Imtech Marine received many reactions and the new river radar also attracted the attention of countries outside Europe. Meanwhile dozens of orders were received and the Imtech Marine office in Flushing (Vlissingen, Netherlands) actually had the scoop with the first order to supply and install the radar on a newbuild sand mining ship. The radar will be available via the Imtech Marine offices and through the Imtech Marine European inland waterway dealers, from December 2012.