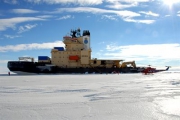 The Danish expedition will be conducted from "Oden", Sweden's only icebreaker of Arctic ice class. (Photo: www.cisionwire.se/sjofartsverket)
Denmark dispatches a scientific expedition to the Arctic Ocean this week to gather data before it submits a formal claim to a vast tract north of Greenland that includes the North Pole.
Denmark's to Arctic areas claim would be made under the United Nations Convention on the Law of the Sea (UNCLOS).
The expedition will be aboard the Swedish icebreaker "Oden", which leaves from Svalbard on July 31 with 46 Swedish and Danish scientists, the Swedish Maritme Department's web site reads. The Danish scientists will gather seismic and depth data to substantiate a future possible claim, for which the deadline for Denmark is November 2014.
Denmark has identified five potential claim areas off the Faroe Islands and Greenland - both parts of the Kingdom of Denmark. The expedition will try to find evidence that Greenland's continental shelf stretches all the way to the North Pole and therefore should be considered as Danish. The North Pole is 380 nautical miles from Greenland.
For that claim to be credible, much depends on whether the expedition is able to gather data to prove that the Lomonosov Ridge, an underwater formation spanning 1,800 kilometers across the pole, is an extension of Greenland's land mass.
Russian scientists claim that the Lomonosov Ridge is an extension of Russia's land mass and plans to submit all documentation to the UN Commission on the Limits of the Continental Shelf in early 2014.
The expedition is part of the Swedish Arctic research program SWEDARCTIC 2012 and is planned to continue to September 14.